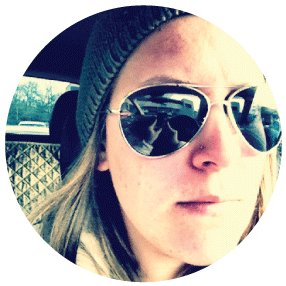 I AM LAUREN.

I ABSOLUTELY LOVE DOGS, I LOVE TO WEAR FLIP FLOPS, I AM A V-NECK CONNOISSEUR (SERIOUSLY, I OWN A LOT OF THEM), AND I LOVE BEER.

I've been a designer my entire life, it seems like. I remember when I was younger instead of playing "house" or "school" with my friends, I made them play "newspaper" or "journalist" with me in where I would be the editor/publisher. I loved putting together the stories in whatever program I had back then on my parents'
1990 Macintosh computer. Ahh…those were the days…
Since that part of my life, I have moved on and learned a thing or two in the field. I attended The Ohio State University and graduated with a bachelor's in Graphic Communication Design in 2006 and started doing freelance two years before I graduated. When I moved back to Cincinnati as a young, fresh grad with wide eyes and a hunger to learn, I was offered an intern position with Abstract Displays Inc. After 3 months interning, I was offered a job as a Junior Graphic Designer working on designs for P&G, The Cure Starts Now Foundation, First Transit, Teva Women's Health and many more. I was thrilled. Through the four years I was employed there, I learned so much about not only large format trade show displays, but design in general. And left as a Graphic Designer…dropping my "junior" prefix.
Later, I was offered a job with Topic Design Group as a Designer and have worked on a multitude of print and web-based projects that were certainly new to me–but I have relished every day working there. I have been a part of some amazing designs and concepts that have left the office for companies like Indiana Insurance, Norman-Spencer, Avery Dennison Graphics, and MidPoint Music Festival to name a few.
Over a year and a half ago, I started learning some new media within the design field namely Adobe After Effects, more in-depth WordPress, Javascript and jquery. I am always excited to learn new things in design and believe that anyone anywhere can always teach you something new.
Currently, I am freelancing and accepting contract work. Please contact me if you are interested in my work! Thanks so much!